---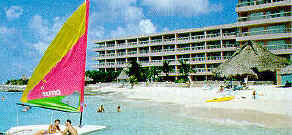 ---
Of all Mexico's Caribbean islands, Cozumel is perhaps the most unspoiled, with 90% of the land still in its natural state.
Cozumel is home to one of the world's largest coral reef, Palancar Reef, and needless to say..... snorkeling and scuba diving are at its best.
Jacques Cousteau discovered black coral here nearly 20 years ago, and during the summer months, visibility often exceeds 300 feet. In order to protect the unique beauty beneath the waters of Cozumel, all of the reefs around the island have been declared National Parks.
For more information on Cozumel
---