---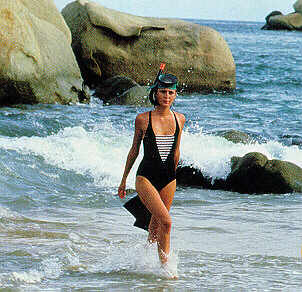 ---
Excursions
Most exploring is done best on your own. There are also short guided tours of the two towns and to some of the attractions outlined below. Here's a short list of things to do:
· San Jose del Cabo
· Cabo San Lucas

San Jose del Cabo
This very pretty village dates to 1730, when it became a provisions stop for the passing Manila fleet. Spend an hour or so getting to know this endearing village. San Jose has some very good shopping and dining, and a couple of interesting sightseeing attractions. The main street is Boulevard Mijares. It leads past the colonial-style Municipal Palace. Facing the Palace is a long narrow fountain, illuminated at night with colorful lights. Make sure you visit the zocalo with its shaded courtyard and white gilded bandstand. The Church of San Jose' faces the square. It was built in 1940 on the site of a Jesuit mission originally built in 1730. An interesting mural above the main entrance depicts Indians dragging a priest towards a fire in retaliation for his trying to stop the tribe's polygamist ways.

During peak visitor season, visit downtown San Jose' for San Jose' de Fiesta, a weekly celebration with folkloric dancers, music, and regional cuisine. Performances are on Saturday nights.

· Estuary of San Jose':
Just east of downtown is a placid freshwater lagoon where roving pirates replenished their water supply. Boats, canoes, and paddle wheelers can be rented next to the Presidente Hotel. The estuary is a game preserve with 200 species of birds. It was recently dredged and rehabilitated by Ducks Unlimited de Mexico. Just beyond the estuary is La Playita, a rustic fishing village. This lovely undeveloped beach is destined to become a mega-resort" funded by the Mexican government. A lighthouse looms in the distance, and offers panoramic views of San Jose' and the estuary.

· Santiago Zoo:
Located in Miraflores (about 30 minutes north of San Jose') this small but well maintained zoo is a fun family excursion. There is also a leather tannery in Miraflores that sells fine leather work.

Cabo San Lucas
Cabo is considered by many visitors to be the true center of the Los Cabos resort scene. Undoubtedly there is more to do in Cabo, and lots more people out and about. Its busy marina draws visitors to take boat excursions, or to the sport fishing dock to see the day's catch. There are also more dining, shopping and nightlife options. And scenically speaking, Cabo's setting is more dramatic; this is the true end of the Baja Peninsula and the point where the Pacific and Sea of Corte's come together. Theres always time to get in a round of golf at one of many golf courses nearby.
What you won't find here are any historic buildings, since Cabo only began to develop as a city in the 1970's. Most attractions are within four or five blocks of the marina. A new shopping mall (Plaza Bonita) anchors one end, while the sprawling Hotel Plaza Las Glorias dominates the rest of the town's waterfront. Across from the marina, facing the Hotel Hacienda is beautiful Me'dano Beach, Cabo San Lucas' swimming beach.

Here are some attractions not to be missed:
· El Arco:
The boat ride to El Arco should not be missed. This naturally hewn rock formation at land's end was carved by centuries of pounding waves and wind. You can either rent your own skiff in the marina or at Me'dano Beach, or head out on an escorted glass-bottom boat.

· Lover's Beach:
The excursion to lover's beach (Playa del Amor) is a fun excursion. This remote, though increasingly crowded, cove offers an ideal picnic spot, with its calm waters, excellent snorkeling, and towering stone cliffs.

Lighthouse at Cabo Falso:
The old lighthouse at Cabo Falso lies a few miles outside of Cabo. The abandoned shell of the original building rests atop sand dunes overlooking the cape. Access is only by horseback, or all terrain vehicles, both of which can be rented in downtown Cabo. · Fishing Fleet Docks: Wander over to the marina in the afternoon to see the fishing boats return. There is also a sprawling open-air market selling handicrafts and clothing. · Glass Factory: See artisans at work at the "Fabrica de Vidno," a small glass factory that produces beautiful hand-blown items. · Whale Watching: Whether in Cabo or San Jose' visitors are treated to whale watching from January through April. Of the world's approximately 15,000 grey whales, an estimated 11,000 make this journey of over 10,000 miles to bear their calves and frolic in the warm waters of the Sea of Corte'z. Whales can easily be seen from shore, or take an excursion. Two of the better operators are Amigos del Mar (tel. 30869) or Cabo Divers (tel. 30747). There are also tours to pre-historic fossil beds north of Cabo, and day-trips along Highway 19 to Todos Santos, a Bohemian gem of a village on the Pacific Coast, set amongst a green oasis. Just south of Todos Santos are some excellent Pacific ocean beaches.
---