---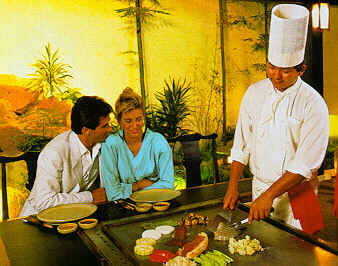 ---
For reasonably inexpensive food, head for Morelos and the streets away from the waterfront. The more touristy places - some of them the most expensive in Baja - cluster around the marina and along Hidalgo. At night, such places compete for the custom of partying visitors by offering happy hours (often 6-8 p.m.) and novel cocktails.

Cabo Wabo
Guerrero between Lazaro Cardenas and Madero. Van Halen-owned club fashioned in their image. Loud and lively but often with a hefty cover charge.

Cafe' Cabo Morelos between Ninos Heroes and 16 de Septiembre. Breakfast and antojitos spot, justifiably popular with both gringos and locals. Closed Sun.

Cafe del Mundo
marina waterfront.
The best coffee in town. Delicious cakes, US papers, magazines and a harbor view.

El Delfin
Playa Medano.
Restaurant and bar which, along with its neighbor, The Office, pumps out rock classics and offers happy hours (3-5 or 6 p.m.). Ideal for an afternoon drink on the beach but the food is expensive.

Giggling Marlin
Boulevard. Marina at Matamoros.
A Cabo institution, drawing an older set than most places on the strip. Mostly a place to drink and dance to Latin standards: chances of getting out without hearing La Bamba are slim.

Mariscos Mocambo
Morelos at Revolucion.
Unpretentious seafood restaurant popular with Mexicans.

La Perla
Lazaro Cardenas between Matamoros and Abasolo.
Very inexpensive and thoroughly Mexican place right in the tourist zone. Good Mexican staples and licuados.

Tacos Maury
Morelos at 20 de Noviembre.
Quality meat and seafood tacos with some great salsas.
---