---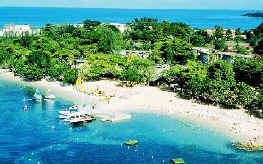 In this lush garden of playful passion, pleasure comes in many forms. Choose one. Or two. Or more. You can lose yourself in this tropical paradise. Or find yourself. Stay up all night dancing to the throbbing beat of reggae. Sleep till noon. Start breakfast with a Planter's Punch. Eat what and when you want. Swim and sunbathe au naturel. After a week at Hedonism II, you'll view the world from a slightly different angle. You'll be tanned and relaxed. And at times you'll find yourself smiling for no reason whatsoever. Because there is no place on earth quite like Hedonism II. And with absolutely everything included in one upfront price; from fine dining to unlimited premium brand cocktails, to every land and watersport up to and including trapeze lessons, you never have to think about money. Not even tips. just what to do next. And when. And with whom.
Hedonism II is an active vacation for the mind, body, spirit and soul. Very simply put, if it feels good, do it. Snorkel or scuba through the crystal clear Caribbean. Water-ski. Sail a Hobie Cat or Sunfish. Eat and drink what you want, when you want, as much as you want. It's all included. Meet a friend. find a romantic, secluded spot and contemplate one of life's eternal questions such as "is a pina colada better with light or dark rum?" Work out in our state-of-the-art fitness center. Play tennis night and day. Play volleyball on the beach or in the pool . Revel in the glory of a spectacular tropical sunset. Ask a total stranger to rub oil on your back. This is Hedonism II and there is no place quite like it anywhere
For Paradise Lost, try the library. For paradise found, come to Hedonism II. This spectacular resort is set in 23 acres of jungle garden. It is a celebration of nature in its most magnificent form. Century old Guango trees reach hundreds of feet toward the clear Caribbean sky. A walk-in aviary is filled with the bright flashes of native Jamaican birds. The grounds abound with lush palms and fruit trees, splashed with the bright colors of tropical flowers and perfumed with island fragrances of romance and adventure. Freshwater pools, Jacuzzis and secluded hammocks for two are hidden about the grounds. The rooms are airy and full of light. And designed for romance with huge king-size beds and mirrored ceilings.
At Hedonism II possibilities are limited only by imagination In fact, about the only thing you won't be is hungry or thirsty Not with premium brand cocktails flowing day and night from 5 bars. Breakfast and lunch buffets are long, lavish and filled with creative Caribbean surprises and traditional favorites. Hamburgers and other treats sizzle all day at both Beach Grills. Every evening from 6 to 7, as the blue Caribbean sky turns into a blazing sunset, hors d'oeuvres are served. Dinner brings choices. Dine buffet style on the constantly changing, always excellent fare in our main dining room. Or make reservations for a culinary adventure at Pastafari, a unique Italian restaurant with a Jamaican accent and a magic touch with pasta. After dinner Hedonism II kicks into overdrive. Dance on the beach by a raging bonfire. Hit the disco. Put on a toga or take one off. Join in the fun in one of the theme nights, like the pajama party. For a quiet and romantic alternative, sip a cocktail at Veronica's piano bar. When the clock strikes twelve it's time for the infamous midnight buffet. This is Hedonism II, where you can eat drink, love and laugh, party and play aroud the clock.